How to sustainable design?
Low carbon website for Recycled Cloud

Background info
Recycled Cloud is a unique service in Switzerland. It minimizes the impact of IT while offering the quality of customized cloud and virtual servers 100% local (Switzerland), 100% recycled, and 100% committed. Recycled Cloud (RC) introduces the best of the "greenest" data centres: using natural cooling, creating local and reasonably sized entities, choosing electricity from renewable sources only, selecting Open Source tools, and keeping local jobs and a support team close to its customers. The Recycled Cloud is here with its personalized approach to accompany the customers in their digital transition and to support them according to their requests or critical situations.
The challenges
The company needed a new website that would be aligned with its values. Other challenges were the small budget and technical constraints: the website must have been static.
My role
My role was the Lead UX Designer, copy co-writer and project coordinator. I worked with a small team of 5 people in total.
Interviews
During the discovery phase, we conducted user interviews to get a better understanding of the product and the challenge.
We wanted to know not only how people search and order cloud services, but also what information they are looking for. Due to the budget restriction, we focused on users from professional and personal circles. I also spoke with the Recycled Cloud team to fully understand the product and their experience with customers.
The main insights were:
the information should be as clear and simple as possible

direct contact and support with real people are extremely important
Because...
cloud services are considered complicated and people feel insecure when they need to manage them themselves.
Personas
We wanted to form a deeper understanding of our users' goals, needs, experiences, and behaviours. So, we created two personas for each of the user segments.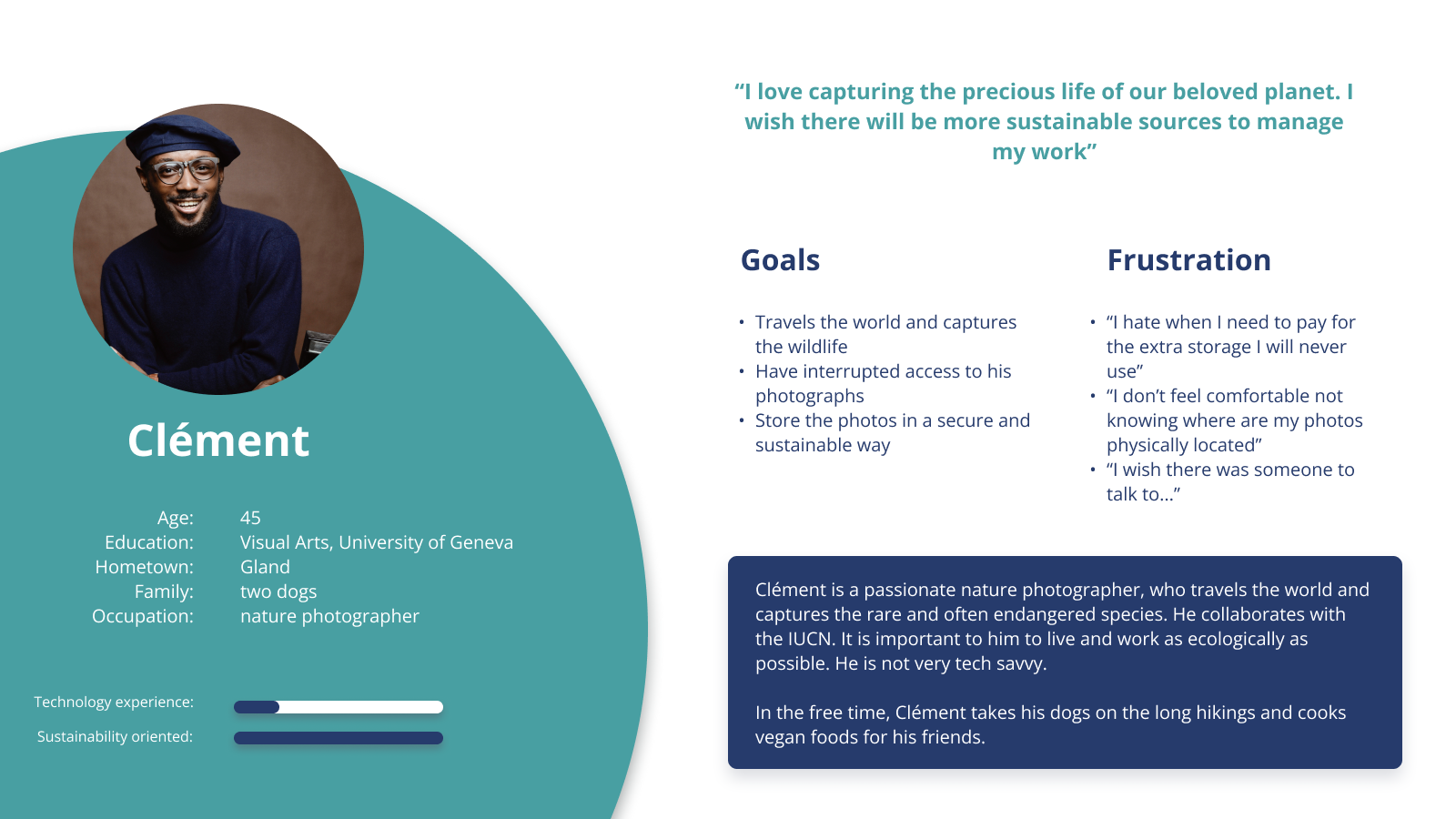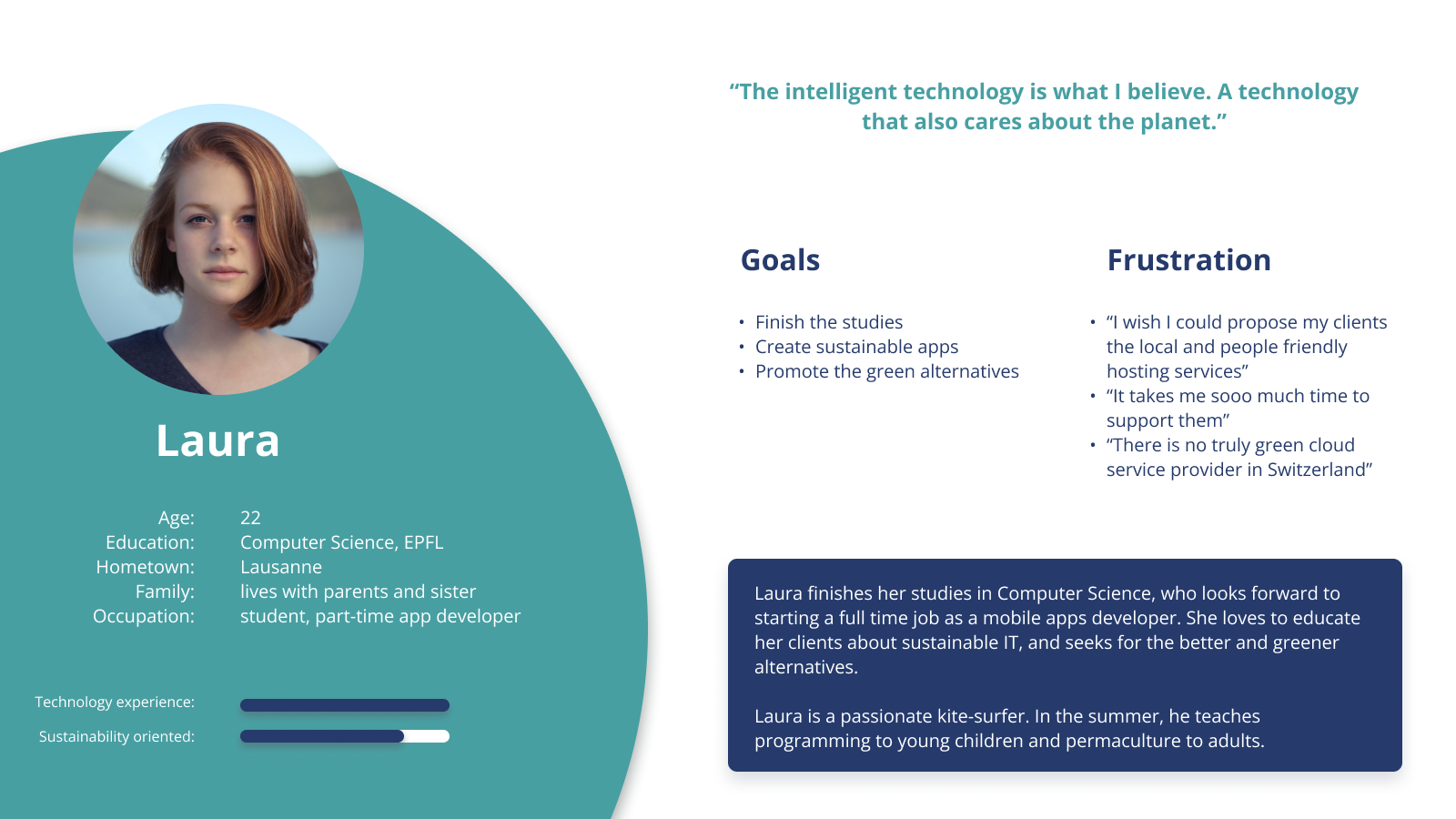 Customer Journey
The next step was to create a customer journey map to build a better understanding of how customers find and interact with the service and discover opportunities for improvement.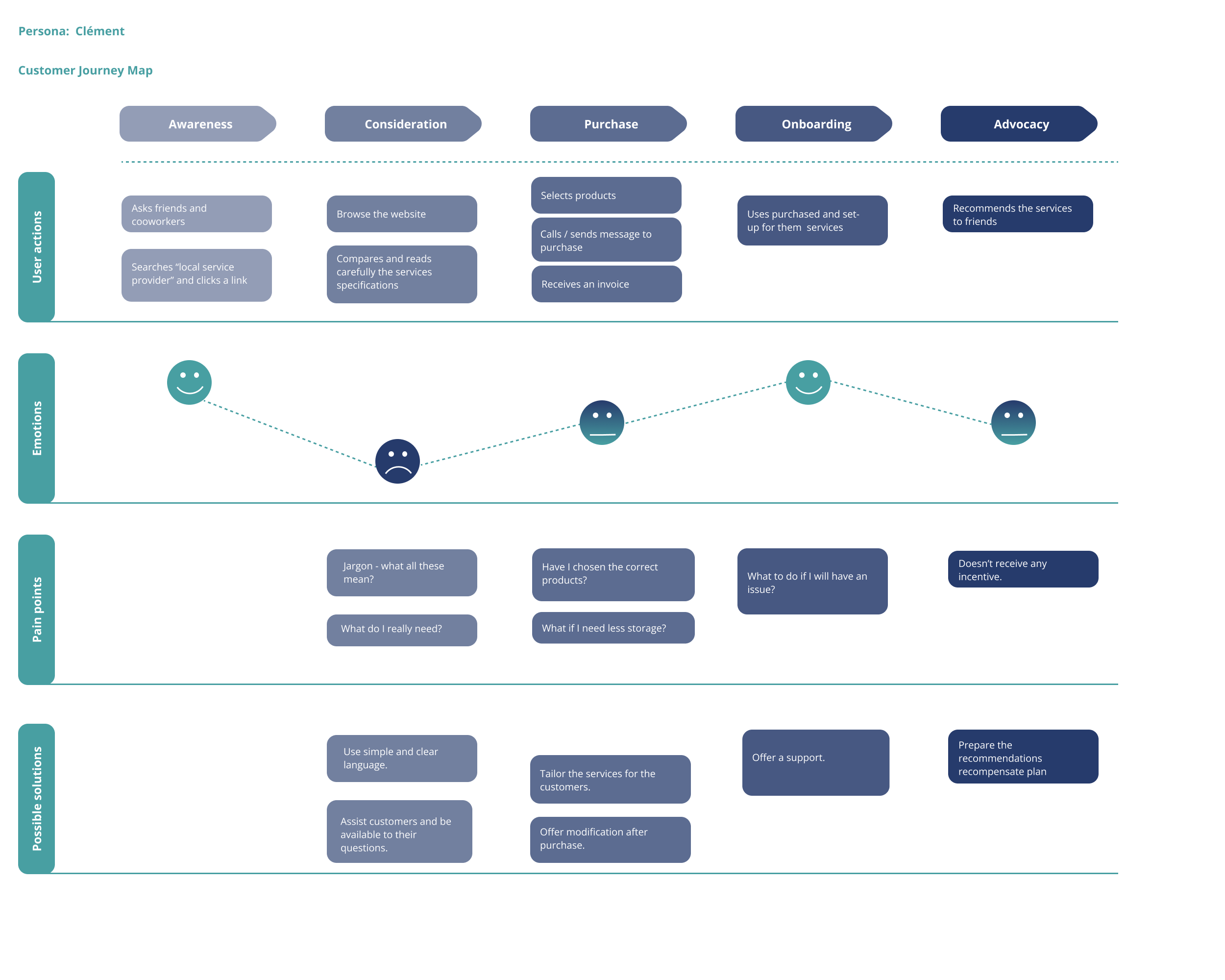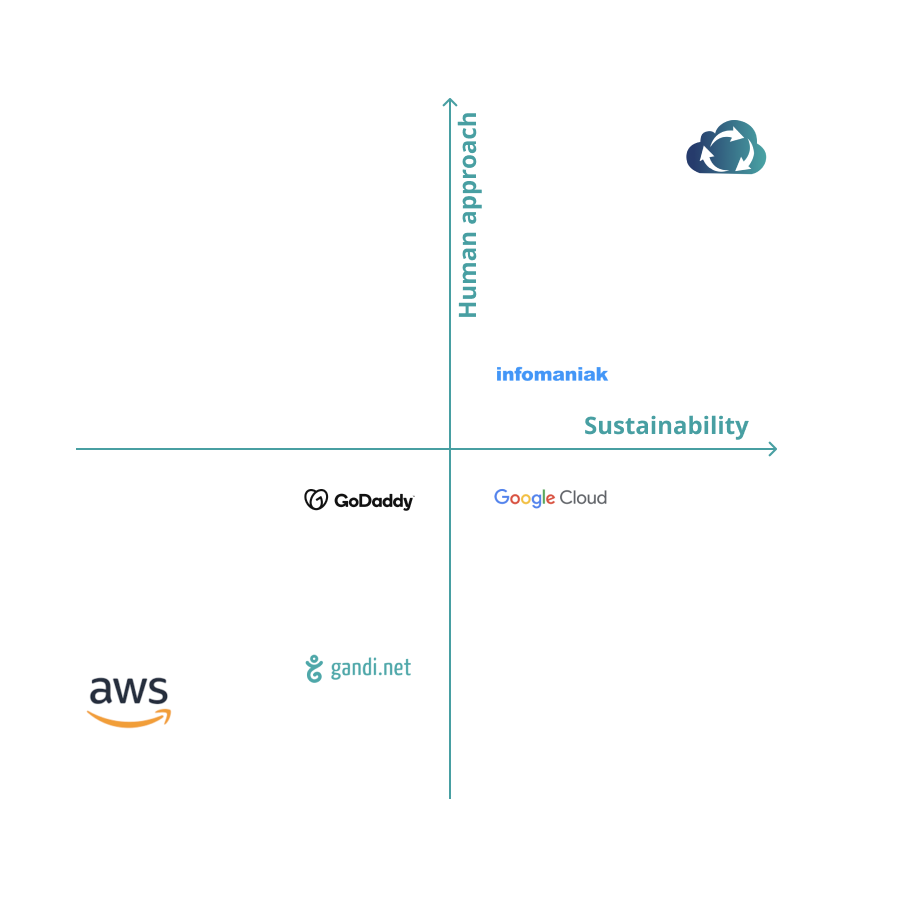 Benchmarks & Competitive Analysis
We wanted to see how Recycled Cloud compares with competitors such as Infomaniak as a local competitor and Amazon, Google, Go Daddy, and Gandi - as global ones.
We immediately found a niche in the area of sustainable development and direct contact.
Bingo!

Wireframes and low-fi prototypes
At the beginning of my design process, I created wireframes first in Quant UX and then in Axure.
Given the context, naturally, I started with the mobile-first approach, which allowed me to focus on the most crucial functionalities. To keep the website as sustainable as possible we decided to:
avoid unnecessary pictures and icons,

skip the contact form,

waive the animations, fancy CSS and JS,

and obviously, host the website with a sustainable provider!
Since the budget couldn't afford the standard user tests, I conducted the "corridor" tests in our company, in three iterations before moving forward.
The most challenging aspect was maintaining a smooth experience and navigation without an online sale or even a contact form!
Instead, I decided to use the call-to-action buttons redirecting users to the contact page with two options to contact: mail to and call to. Depending on the device or context of use, each user would always have the possibility to send a message or call Recycled Cloud's office directly.

UI Design
Once we felt all issues were addressed, we started designing the final screens in Adobe XD. The logo and branding were done by a dedicated Graphic Designer, Rachael Camp with whom I worked closely.
Together, we decided on a bright palette and no typical green colours. We kept the layout as simple as possible and followed the Accessibility guidelines in terms of contrast, page hierarchy, labels, etc.
We made a commercial website that scores 92 out of a possible 100 points at ecograder.com. This is an excellent result!
The recycled Clouds website is only the first phase of the future portal development, including online sales and user accounts.